Click the button "Auto Calibration" in the instrument control window to display the full-screen accuracy. Three items: Gain Uniformity (Gain Uniformity of Amplifier), DC Offset (Internal Input Short) – Amplifier offset in internal input short), DC Offset (Test Signal) – Offset of device internal square wave, DC Offset (External Input Short) – Shows the offset of the external input short circuit for all channels.
When the initial screen is displayed, only the Gain Uniformity and DC Offset (Test Signal) are displayed in real time. Select the data type to be viewed in the View Selection, and click the View button, change to the corresponding information view.
If the calibration status is not good, the gain of each channel is not uniform, the offset voltage is large, and the characteristics of each channel are different as shown in the following example screen.
Button Start Calibration
If you click "Start Calibration" button at the top of the screen, the calibration process will start from channel 1 of Gain Uniformity and the process will be completed to channel 35 of the final DC Offset (External Input Short).
If LXCON01, which is a separate device that short-circuits all external input channels of the device, is connected to the input connector of the device, automatic compensation is performed until the final DC Offset (External Short). If LXCON01 is not connected to the device input connector, It goes to DC Offset (Test Signal) and completes the entire calibration process.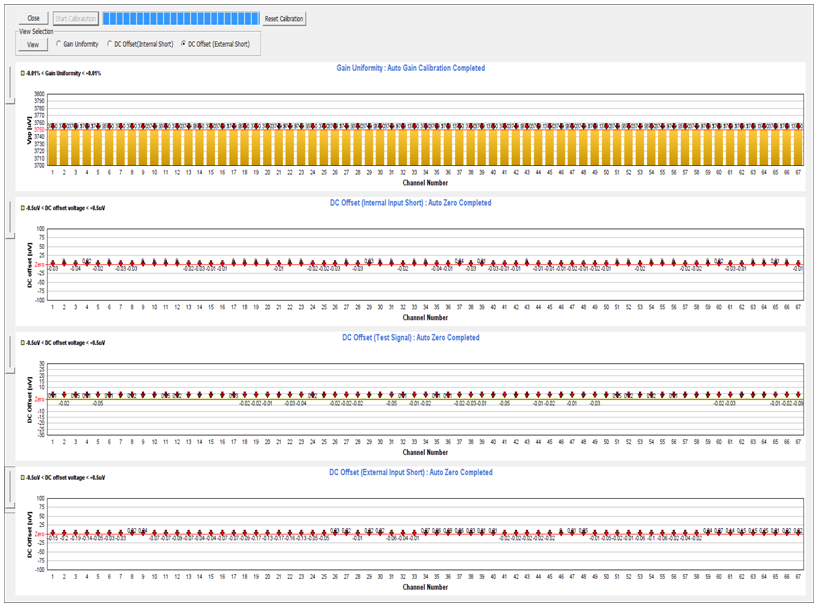 [Calibration processing completed status. (Total travel time within 2 minutes)]